[please login to make this ad block disappear]
My favorite gear
:

Login first to add this to your Likes or Haves.
Carbon 3K 90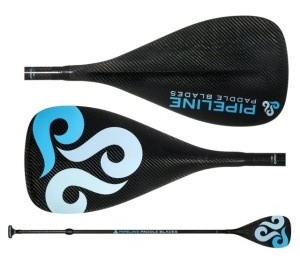 Paddle Info
Brand
Pipeline
54530 Pontiac Trail
Bldg B
Milford
MI 48381
USA
Phone: +1 888-499-9831
· Show brand details.
· Show all Pipeline products.
Available Shaft Type(s)
Straight
Carbon 3K paddles are made using the finest bidirectional 3K 2x2 twill Pre-Preg carbon fiber. 3K carbon provides the perfect balance between flexibility and strength, all while offering some of the lightest-weight paddles in the industry. The full 3K carbon adjustable shaft features our ovoid shaped shaft which contours perfectly with your hand. The 3K carbon palm handle has been designed for comfort and blade control and is sized proportionately to the blade size.

Features:-
Blade/Shaft: Carbon 3K 90sq inch Adjustable SUP Paddle
Handle: Carbon color matched and sized to blade
Blade Volume: 90sq inches
Weight: 792 grams
Material: Carbon
Adjustable Range: 5'7" to 6'10"
User reviews
There are no user reviews for this listing.