[please login to make this ad block disappear]
My favorite gear
:

Login first to add this to your Likes or Haves.
Downwinder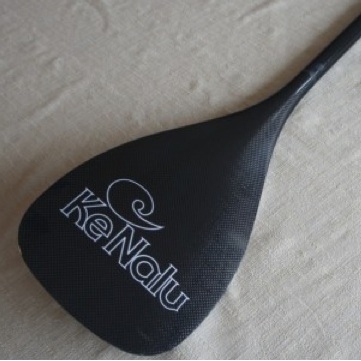 Paddle Info
Brand
Ke Nalu
922 7th Street
Hood River
OR 97031
USA
· Show brand details.
· Show all Ke Nalu products.
Recommended Retail Price
USD 335
Available Lengths
With uncut Standard Shaft: Wiki: 82", Maliko: 83", Molokai: 84".
Sometimes the best ideas are accidents. I got carried away with an Elite Molokai paddle on a downwinder and hurt my shoulders, so I swapped the 100 Flex Elite shaft for an xTuf Uni carbon shaft. It's MAGIC. Not only is it super easy on your shoulders, but the flex launches you into swells, and the flex is all in the right places. I've tried the same thing with a 60 Flex, and it's not as good. The xTuf Unidirectional Carbon shaft is just right for this, and it damps out the catch more, which spreads the power out longer. One of those things you just have to experience to understand. I don't like the added weight, and its not as fast as a Ke Nalu Elite in flatwater, but in downwinders it's da kine. We've decided to offer this Downwinder configuration with Wiki and Maliko blades as well for paddlers who prefer those blades. To configure your paddle, you will need to choose a Blade, a Shaft, and a Handle, and for handles we offer the very versatile Extended Ergo T handle ($50 extra) as a selectable option. The Extended Ergo T handle is also available separately for $65. Sorry, the Extended Ergo T does not fit other manufacturer's paddles.

Wiki Blade is 8" x 15" and 84 sq. inches, total paddle weighs 442 grams. The Wiki blade recovers very quickly.

Maliko Blade is 8.5" x 16" and 95 sq. inches, total paddle weighs 495 grams. This is a very powerful paddle, but the wobble-free design means it´s easy on your arms and shoulders. The only paddle on the market that is lighter is the Ke Nalu Wiki. Most racers and surfers will find the Maliko to be ideal. It hits the sweet spot for combining power and rapid recovery to give the greatest efficiency.

Molokai Blade is 9" x 17" and 105 sq. inches, total paddle weights 499 grams. The design of all Ke Nalu blades ensures a firm, strong catch in any size, but it´s particularly impressive with the Molokai. Despite the big blade, the Molokai is still an ultra-lightweight paddle, at only 499 grams. Reliable catch for big wave surfers, and power and efficiency racers appreciate.


User reviews
There are no user reviews for this listing.