[please login to make this ad block disappear]
My favorite gear
:

Login first to add this to your Likes or Haves.
Antix Large 2017
Featured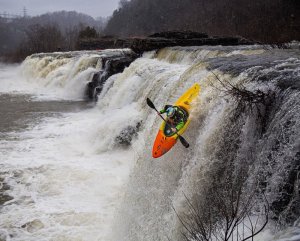 Short Facts
Stats
Please login to see full stats.
Introducing Jackson Kayak's Antix! A new creeking/river running kayak that is fun, easy to paddle, runs the river like a dream but with some groove in the hull design to allow for continual play all the way down! Take your time running rivers has never been more fun as you take advantage of every river wave, hole, splat rock, eddy line, pillow to your hearts content. The Antix turns quickly, squirts, spins, splats, and freewheels like a dream. The Antix is an easy boat to paddle in technical rapids helping you to cross comfort barriers more readily and has you learning to do more playboating moves each time on the water. The hull shape on the Antix makes it an easy kayak to roll. Its forgiving lines allow you to keep upright as you punch to the next level in your river running and play! Will be available in two sizes, medium and large.

Product Features

1. Slicey Stern
Playfully slicey stern allows for squirting, splatting and down river fun!

2. Planing Hull
The hull is built to make all the right river running moves but have the ability to spin on waves and surf up holes without loosing river running power or stability

3. Uni-shock Bulkhead system
Ensuring that all your river running experiences are as safe as possible, the Antix will feature the Uni-Shock bulkhead system and U-Channel track to protect paddler and kayak.

4. Top of the line outfitting
Jackson Kayak's bomber outfitting will include our comfy padded seat, perfectly fitting and back band, thigh pads and more. All fully adjustable!

5. Fuller Bow
a roomy Bow gives you comfort all day

6. Lightweight
The lighter weight of the boat is easy for carrying, nimble for maneuvering, and is fast at accelerating

7 . GoPro Ready
Comes with a screwed in mount for your Go Pro that you can unscrew and stick wherever you like for a different point of view.

8. Nalgene Bottle
USA Made, BPA Free and with a JK logo - this is one water bottle designed for years of hard use, just like your Jackson Kayak!

9. Sure-Lock Backband System
This instantly adjustable system is operated right from your kayak and uses only rope and plastic cleats: no metal parts to rust, corrode, fall-out or break - ever! Should you break a rope you are a simple square knot away from continuing in comfort and replacement is possible in any hardware shop.

10 - Thermoformed U Channel with Composite Reinforcement for Hull Support

Specifications

Opt Overall : 190
Cockpit Size : 36 1/4 x 22
User reviews
There are no user reviews for this listing.