[please login to make this ad block disappear]
Articles
My favorite gear
:

Login first to add this to your Likes or Haves.
Retro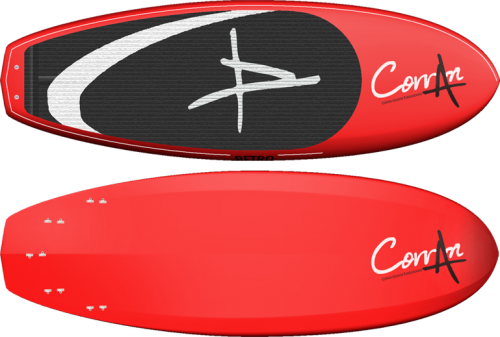 Short Facts
Stats
Please login to see full stats.
The Retro almost came along as a side-thought. Local San Clemente surfer Tim Ryan said "Shape me a board that I can surf anywhere, any time, in any conditions, and dominate no matter what comes my way". A tall order to be sure, but thats exactly what we have succeeded in doing. Based heavily on the original Simmons surfboard design of era's past, with a decidedly modern twist, the Retro (which we had nicknamed the Timsup) is the answer to the SUP surfer looking for one board that will be that magic board. More fun than the standard 10′ log (and just as easy), and more versatile than the little potato chip performance SUP's, this board is quickly becoming our best selling wave surfing design.
Dimensions:
Retro 7'8″ x 30″ x 4.4″ – 119ltr
User reviews
Worth trying if in the market for a simmons style board
Review
About Me
Surfing ,Kitesurfing, WW kayaking , Mountain biking.
5' 10" , 150 lbs
Pros / The Good
I have both the 7'8" x 30" and a 8' x 31" , After comming off a Paddlesurf Hawaii Ripper 9'6" x 30" the differance is like going from a 10ft longboard to 7' fish , The 8 footer is super easy to paddle, catches mushy waves easily and is very responsive, the beveled rails to hard tail rails make these boards forgiving dropping in yet they have good drive out of bottom turns and carve nice cutbacks rather than the feeling of "floating" the nose around like the ripper and without alot of foot repositioning, the 7'8" is remarkably more agile, weighs 16lbs, Light but not ultra light and has flaws in the glass job as well. it handles shoulder to head high ( about the extent of my ability) steeper waves, is fast down the line and can be leaned on even harder during more aggresive turns. A bit slower to paddle in but tracks better than the 8' probably due to lower volume.
The above is just my opinion/observation, I am not a seasoned pro. I bought these boards because they happened to be availible when I was looking for a short performance board while at a vacation destination and nothing else was outside of ordering and waiting for delivery. I would have liked to compare with other Simmons style boards before buying but it wasnt possible.
I'll be trying the 8' out on some standing waves in Co. soon, I am thinking the beveled rails will make it a decent river surfing SUP.

Cons / The Bad
The glass jobs on both boards is not up to industry standards, The 8 footer came with a "burn thru" at the carbon stringer and sucked water on the first outing, when doing the repair the board seemed to have a super heavy wax job, probably to hide the poor sanded finish, one fin box ( FCS plugs) was set almost vertical while the other 3 were set at about 4 degrees. The 7'8" weighs 16+lbs.
Having inspected both a "Simmsup" and infinity Pheonix the quality of glassing just isnt there on the Retro especially since the price is higher.
My advice would be to very closely inspect the particular board before buying
Was this review helpful to you?