Articles

Victoria Catunda Gross visited PaddleExpo 2019, looking for new products she personally found interesting. As you can easily tell from this report, her main passion is whitewater SUP paddling…


A universe of paddle gear. Photo: Helga Imhasly, SUPzero.
This year's boards were all about higher quality, sustainability and new looks. Although in the US the number of SUP boards sold decreased, there were even more boards displayed than last year. Of course, everybody was discussing wings and foils.
Even more exciting than seeing all the new products is meeting the people around and behind them. This year's PaddleExpo was more compact and cosier. For me as a whitewater enthusiast it was wonderful to meet paddlers as Corran Addison (legend), Krystina (young tough whitewater racer) and Ben Randow (experienced whitewater rafter and SUP paddler).
So, let's get started with the highlights and what's new in a seemingly endless world of paddle people and their gear.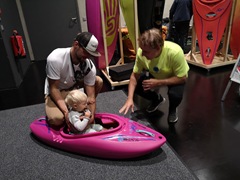 Kristyna Babiankova / Corran Addison demonstrating his kids kayak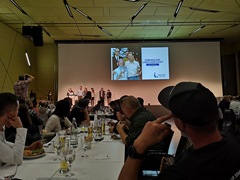 Industry Dinner / the best coffee in the hall: "caffeine source"
SUP Boards
Whitewater
Although the amount of SUP boards displayed increased, most manufacturers just brought their whitewater boards if they were total novelty.
The Atcha 86 continues being one of the only middle length whitewater boards that allow you a smooth surf on small waves during river tours. There is now the new Aztron 8'6 inflatable surf, which is slimmer and probably can't compete in stability with the Atcha. And the Siren Guppy 8.2 shall be introduced in 2020. Most boards displayed continue having a length of 9'6 and longer for big whitewater and touring - or 7' and shorter for surfing only.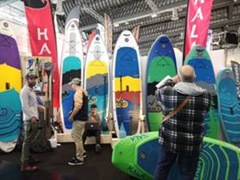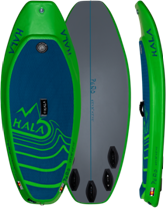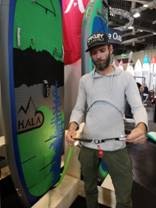 Hala – sharper Peño, easier available in Europe
https://halagear.com/ https://halageareurope.com/
Why change a shape which works? The people from Hala brought their wide range of Whitewater Boards that we know and we love and don't want to miss on any whitewater tour or race – and since 2018 have new shapes and stronger rockers.
The new Hala Peño is finer for sharper edges and better surf (6'11" x 32" x 3"+ 2", 165 l).
After some bottlenecks in the supply chain - the popular Atchas were even sold out in the United States - Hala will be much easier available in Europe thanks to a new warehouse in the Netherlands and a new distribution system.
Also new is a quick release system for leashes.
Fanatic / Dan Gavere: Rapid Air Premium
https://www.fanatic.com/sup/inflatable-boards/river/rapid-air
The new Rapid Air 9'6, developed with Dan Gavere, was shown: with its wide shape and strong rocker (11'/ 30 cm hight) it looks like a solid whitewater performer. Really innovativ is the profiling of its deck in the centre line and at the borders, so you always feel where you're standing.
The 4 click fins are quite far in the front, almost in the middle of the board. This makes the board really agile which can be a problem for some paddlers. The position exposes also the fins more to rocks - when you lean forwards with your board to lift the backside out of the water, the fins will continue in there hitting the rocks.
Specs: 9'6''/36"/6" (289.6 cm/91.4 cm/15 cm), 324 L, 13.75 kg
4 X 5 cm mini click fins
Soul Waterman / Corran Addison: new board coming 2020
Corrans new plastic board is coming 2020. It has all the features of the recent board but will be far better surfable. The simple and smart fin system (here shown on a kayak) will be kept: the fin is adjustable with a cable which you pull on the deck of the board. If you hit a stone sideways you're fin will simply fall off and be secured by the cable.
The board will be introduced in spring – I'm supposed to quote: "if the mold is ready" Can't wait. For further quotations about shaping and inspiration from the shape of beer bottles please ask the author himself.
Indiana
https://www.indiana-paddlesurf.ch/en/front-page
Their wide range of their surfboards were displayed. Thanx to their quality produced with double layers you can surf them as well on the see as also on rivers. For their new quality in production and new bag see beneath in Technical Novelties an Accessories/Backpack.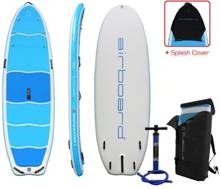 the «Whitewater» 2018 will be redeveloped
Airboard
https://airboard.ch/collections/sup/products/airboard-whitewater-big
In collaboration with the paddlers Norb Sommer and Stefan Ulrich is working on a new version of their board simply called "Whitewater". We hope to see the new board next year.
Starboard Inflatable River
https://sup.star-board.com/2019-products/2019-inflatable-river/
They didn't bring the board to the fair! Anyways I've got a beautiful hand made drawing that describes that the future fins will be asymmetrically formed (flatter in the front, steaper on the fins backside), so you glide much smoother over rocks. Let's see what comes!
Specs: 11'0'' X 34'', 10'11'' X 31'', 9'6'' X 36''
whitewater racing boards, Helga Imhasly & Jeroen Houttuin from Supzero with Kristyna Babiankova
Tambo
The firms owner and winner of the European Whitewater Championships in Lofer 2016 Honza Rott has developed a wide range of not only wide but long whitewater racing boards which is also ridden by whitewater racers as Iva Dundová, Tomas Vanecek and Kristyna Babiankova.
Aztron
Beside the Sirius, a basic whitewater board, there is now the new inflatable surfboard Aztron Orion.
Specs: 8'6"/ 29"/ 64.75" (259 / 74 / 12 cm), 275 l, 8 kg
The ne Siren Guppy (pics 3, 4 Marc Hallhuber)
Siren
Their new prototype board guppy 8.2 designed by Marc Hallhuber, rather small, nice shape with a full rocker, thin, would be nice testing for river surfing and small whitewater. The finale version will probably be introduced at the fair Boot 2020.
Specs: 8.2 / 30 / 4.75, 5 fins
. Technical Novelties - longer lasting, stiffer, lighter, sometimes smaller
Due to the large competition by cheap products and online shopping you recon the tendency of established manufacturers increasing the durability and performance of their boards to stand out, but also an effort to communicate these technologies in didactic and graphic ways for easy comprehension.
Besides: Boats which last longer equal less waste on our planet - and sustainability was an awarded and frequently advertised topic at the fair. A further remaining and frequent issue was "comfort", in board size as well as in transport.
Innovative Highlight
DUO – hard tail, soft nose (kidding!! the nose isn't soft at all, though inflatable)
Do you want to ride a hardboard – but you want it to be lighter and to fit into a normal bag which can even be checked in as regular luggage on an on your flights? DUO has developed a hybrid which allows you to stand on a hardboard tail, which the front half is inflatable.
durability & performance
Short overview, details and photos beneath
New Fin systems: Airboad, Indiana, Shark
Welded: Starboard, JP Australia
Woven: Indiana, Starboard
Stringer: Indiana
Welded joints
Glue is prone to production defects - and even if processed properly, it's still a weak spot on an aging board. Therefor Starboard and JP Australia weld the layers of their high end boards together. By heat the different layers are joint mechanically.
Woven layers
With the woven dropstitch technology you produce stiffer and lighter textiles - which naturally gives the highend boards of Starboard and Indiana even more stiffness, without increasing weight or price.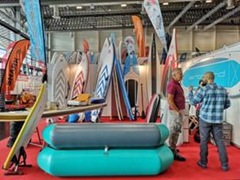 Airboard - removable finbox, flat bottom
https://airboard.ch/collections/sup/products/airboard-whitewater-big
This year Airboard presented a new fin system, which is entirely removable from their boards. You can release the straps which holds the finbox through an opening to a plate on deckside of the board - and roll the board smoothly which extends its life.
The finbox is embedded into the board which makes the bottom flat, reduces the resistance in the water and therefore makes the boards even faster.
Indiana - Woven, Stringers, US Split-Finbox - and Lightweight Board 11'6 7.5 kg
https://www.indiana-paddlesurf.ch/en/front-page
For the Split-Finbox the middle part of the US fin box is left out, so you can roll you board smoothly and even save weight - while maintaining the performance of a complete box and a fast and simple handling.
Indiana 11'6 Feather
The Lightweight board is produced with a woven Single Layer and 4 Stringers and has a high performance with a good tracking.
Specs: 11'6'/ 30'' /4.75'' (350/ 76.2/ 12 cm), Volume: 307 L • Weight: 7.5 kg
High-end "Limited Edition Boards" ("Woven Pre-Laminated Double Layer" dropstitch, the Double PVC Belt and Fiberglass pressure belt on top)
Stringer: inspired by traditional surfboard manufacture, Indiana is always improving their stringer technologies for more stiffness (fairly wide PVC strip glured down the centre of the board)
Additionally new inflatable SUP-Boards come with D-ring patches on the board noses and a ¼ inch thread for attaching cameras or other gadgets. Logos next to the finbox give a fast overview of the respective board.
Indiana reduced its packaging, eliminated plastic and only uses environmental paper. Thank you!
Starboard - woven and welded
for technology see above
For further sustainable aspects besides their longer living boards see their backpacks made of recycled bottles beneath / bags.
JP Australia - welded joints
for technology see above
for their inflatable foil – see Foiling Boards
Shark
New fin system, everything in shark design, superficies with "shark skin" – hope that's fast!
for their inflatable foil – see Foiling Boards
Red Paddle – compact board now longer, 11'
https://redpaddleco.com/red-who/about-us/
After the release of their first compact board 9'6, Red Paddle now created an 11' compact board witch fits into a tiny backpack.
. Style
1,2 Fanatic color range and new print / 3 Aztron Design / 4 red paddle
New prints and colors
https://www.fanatic.com/ https://www.aztronsports.com/ https://redpaddleco.com/red-who/about-us/
Increasing competition, online sales, new printing technologies.
What we gain: endless beautiful new boards.
Almost every manufacturer worked on a new esthetic line and color ranges.
Definitely mentionable and a joy are the new lines from Fanatic and JP Australia as well as the new boards from Aztron. Red Paddle continue having their timeless colors.
Indiana: 4 colours, no waste boards
https://www.indiana-paddlesurf.ch/en/front-page
The deck of the highend "Limited Edition Boards" ("Woven Pre-Laminated Double Layer" dropstitch, the Double PVC Belt and Fiberglass pressure belt on top) was designed by Zurich-based artist Liza created as a Quartet. The deck in four colors is punched out so that no material remains and all pieces are used on one of the four boards. Specs: 11'6x30 and 11'6x29
Anomy – unique design and now matching clothes
The Brand which is known for its collaboration with renowned illustrators to create unique boards, now has beautiful matching clothing to go with the boards. So you can paddle, get off your board and directly to dinner in your stylish quick drying clothing.
Examplary High End Board: THE WAY OF TITO MORELLO 10'6
Specs: 10'6/ 32"/ 4.72" (320/ 81.2/ 12 cm), 240 L (63.4 G), 11 kg(24.2 lbs)
2 Foiling Boards
As mentioned, foiling is omnipresent. Below we show some of the multifunctional boards which now are in the focus.
JP Australia – awarded 7'0 X 28" WOOD EDITION, solid Allrounder
The board developed with input from Keahi is short for reduced swing weight during pumping and maneuvers. Its best feature is its variability: it was awarded for performing best in the largest range of functions (SUP / SUP SURF / SUP FOIL / WINDSURF / WINDFOUL / WINGSURF / WINGFOIL)
Specs: 6'11 / 28" / 4.4" (213/ 71/ 11.5 cm) additional sizes: 6'8x26", 115 L/ 30 G
Starboard – 4 in 1: the Hypernut
https://sup.star-board.com/2019-products/2019-hypernut-foil/
Foil, Sup, Sup Surf, Wind Surf, Wing
You'll probably gues: it is nut shaped.
6'10"&7'4'' up to 8'
Indiana - Wake surf, Foil hardboards & inflatable boards
https://www.indiana-paddlesurf.ch/en
Together with Gunnar Biniasch on Fuerteventura and Andi Widmann in Konstanz Indiana has developed a wide range of foilboards and foils.
Inflatable Foilboards: Wingboards 6'4 und 6'4 & Kite Foil 125 Inflatable
Thanks to an integrated Foilbox consisting of two Future-US-Fin boxes laminated in a PVC block, the new Indiana Inflatable Wingboards in lengths of 6'4 and 6'0 work excellently. The existing 4'1 Inflatable Kite Foilboard has been slightly improved and is now called Kite Foil 125 Inflatable.
Highlight: Indiana 6'2 SUP Foil 105L Carbon with double concave bottom for easy tracking
Specs: 6'2' / 28 3/16'' / 4 9/16''(187.8/ 71.6/ 11.4 cm), 105 l, 7 kg
For wake surf see Indiana web
Shark – Inflatable Foiling Board
This new inflatable foiling board will soon be tested with a wing in Oman.
Pictures will be published by Supzero.com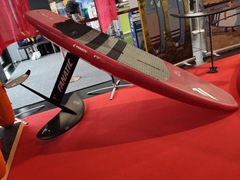 Fanatic – Sky SUP
https://www.fanatic.com/sup/composite-boards/foil/sky-surf-foil-ltd
The boards step tail (cut out edge on tailbottom) will make pumping onto foil and riding in steeper sections easier. The all in one board was developed with Philip Knecht, team Sideshore, Wolfshausen.
Specs: 27" / 68.6 cm, 6'3" / 190.5 cm, 106 l, 7.32 kg
3 Wings
Naish
The wings from Naish have been presented last year - but they continue being a runner and after endless demands will now be produced in 4 different sizes.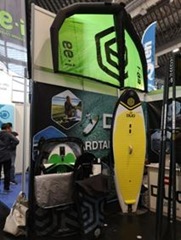 DUO Wing
DUO-Boards are working on a wing to be used with their hybrid boards.
Fanatic Wing
Fanatic displayed a new wing which now is somewhere out there in Kiel being foilboarded by Vincent Langer (pic2 Instagram fanaticwindsurf).
4 Paddles
Freefall Paddles - carbon and wood paddles with lots of love - and free of plastic
This manufacturer not only produces carbon paddles but also individual wood paddles - in solid wood or laminated wood. For strength and lightness in one, woods with different densities are worked to unique paddles.For different color ranges you choose even White Ebony or genuine Rosewood, Purple Heart or antique White Teak as well as classic woods like Ash or Oak - all as recycled material. To round up the ecological aspect of these plastic free paddles they are covered by epoxy for best protection.
For even more individuality you may pick tasteful stickers to decorate your unique piece (Mona Lisas backside will be mine – please choose your own).
Glory Boards Paddles - Sleek Paddel 2020, whitewater prooven
The new three-piece 100% carbon paddle is more resistant. Due to the nylon blade you may hit it against rocks, stones, asphalt without harming it. Glory Paddles recommend it even for Whitewater.
Specs: 160 – 225 cm, Blade 40 x 20 cm, blade area 590 cm2, weight 800 g
Werner - high end classics unchanged
As always, the high end paddles from Werner were displayed: for Whitewater Session and Legend 99 (known highlight: foam core for more effectiv bracing), for surfing Rip Stick 79 and 89. paddle on.
5 Accessories
. Whitewater, Safety
Stefan Ulrich from Suppoint trying on Nevis PFDs / perfect fitting / double strapping system
Palm – Award Winning NEVIS PFD
HTTP://WWW.PALMEQUIPMENTEUROPE.COM
Years of development were rewarded with award for a life jacket you adjust quickly and has many small but surprising features. It really fits smoothly to your body. The doubled strapping (pic 3) makes it possible to quick release – without losing all adjustments. It has many many well thought out bags, even for
By the way: their neoprene now are even softer and more flexible.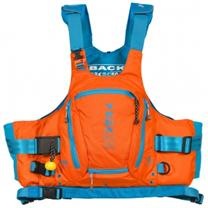 Peak UK - Special Jury Award / PEAK UK – ECO – New River Wrap PFD
Their paddling clothes is not only absolute stylish but also ecological. At this year's Paddle Expo Peak UK was awarded for their ECO Project. They removed all plastic packaging from equipment, make pleated bags from waste material (made from old fabrics) and all whitewater life jackets made from 55% waste plastic.
So, this year – after selling the successful Ocean Wrap for sea kayak – they brought out the new River Wrap.
Specs: sizes: L10/12, L14/16, L/XL, XXL | colors: Orange, Blue | level: High End
For their clothing see beneath / Style
NRS & WRSI
There are a lot of new clothing from NRS. Their legendary PFD Ninja goes on. I definitely loved their helmet, I believe it's the most comfortable I've ever tried on.
Kokatat – Hustle & HustleR
Kokatat displayed their fairly new PFDs Hustle & HustleR (for rescue) and their well-known high quality drysuits (they get in 20-year-old suits for repair). They have new small trough bags for quick rescue.
HF & Astral – padded quick release with safety and comfy shoes
New is a padded quick release belt that … developed with and for his wife. Above the belt you would actually my really happy face because it fitted so perfectly, I thought I was already on the river.
I'm not a fan of carrying to many things on my body while paddling on watercourses – bud you do have the possibility to carry the new tiny throwbag on your belt: the little fish with 9 m kernmantle rope 7.5 mm, Conical shape for accurate throws and easy repacking
On the lake you can attach a restube to it, so you don't need additional belts.
Astral continues having a big range of water shoes, really light and flexible ones as well as more solid pairs. They probably are the best on the market – but I'm still searching the perfect rough whitewater boots for myself.
. Bags
Indiana – tow bar on the wheelie bag
Tired of hitting your wheelie bag against your legs while walking? Indiana has found simple way to avoid that and even display your paddle during transport (I love showing off my paddle, especially because otherwise everybody thinks there is a paraglide in my huge bag). So above you definitely see happy faces, we won't stop rolling around. Furthermore, they switched the carrying side on the opposite side of the wheels, so the belts don't grind along the ground.
Coasta – a tiny bag which grows
For their foldable board Coasta designed a really small and really comfortable backpack (notice my happy face carrying it – it is comfortable and if I had photographed it with a person of normal height it would even look tinier). In case you're too lazy to fold your board, want to carry a normal board or have additional gear to carry, there are two additional compartments to add more volume to the backpack.
Starboard – Wheelie Bag made of recycled bottles
https://sup.star-board.com/products/inflatable-boardbags/
Their high quality wheelie bag Starboard produces out of upcycled plastic bottles, in partnership with Waste2Wear. Between 30 to 150 bottles are used per bag.
Palm – transparent bags and PVC free bags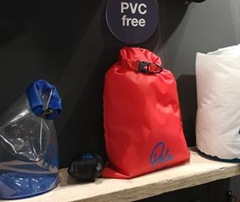 Transperent bags and PVC free drybags – do we need to say more?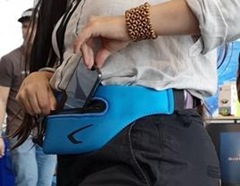 Sharkee – Underwater proofed Hipbag
You can take your smartphones and car keys in your Sharkee into the water. They will be protected to a depth of 5 meters. The hipbag comes in a wide range of colors, combinable with different belts. We can't wait for the bag to become more affordable. Anyways: The handicraft production in Germany is done with high quality components from AustriAlpin and Tizip.
. Pumps & Air Release
Red paddle / silent air remover
No more noise when releasing air, no more disturbing neighbors and people relaxing by the water.
Sipa
Additional to its known "self pumping boards" Sipa now has a new electrical pump with integrated battery. It's rather loud – but we love its compactness and minimal design.
Aztron
New on the market: a huge pump for your board.
. Style
Peak UK – Special Jury Award / PEAK UK – ECO – stylish water looks
Their paddling clothes is not only absolute stylish but also ecological. At this years Paddle Expo Peak UK was awarded for their ECO Project. They removed all plastic packaging from equipment, make pleated bags from waste material (made from old fabrics) and all whitewater life jackets made from 55% waste plastic. What else can we wish for? Please the same clothing for SUP!
For PFD see above / Whitewater, Safety.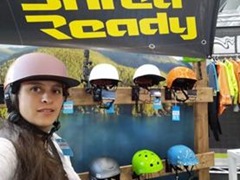 Shred Ready Helmets – new ZETA
I must say I have tried on more comfortable helmets in my life – but never any helmet as beautiful as the ZETA.
Specs: sizes: S, M, L | level: High End | colors: Black, White, Blue, Red
Sun Glasses: Woopwoop Glasses, Dewerstone
https://woopwoopstore.com/es/ https://dewerstone.com/a
There are new glasses on the market from simple up to high end. They simply continue being comfortable and elegant.
For SUPzero,
Victoria Catunda Gross