[please login to make this ad block disappear]
Articles
Aargau, River Reuss, Bremgarten upper wave
Featured
Spot Info
What is it like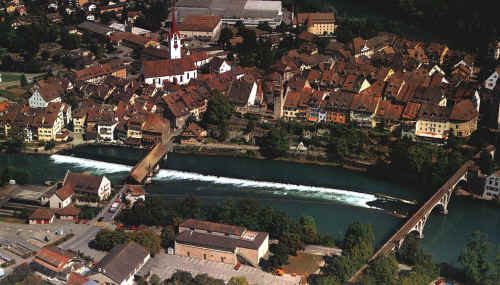 One of the most famous rodeo waves in the world. Most kayak manufacturers show at least one picture taken here, against the background of the beautiful medieval town of Bremgarten. At low and high water levels, this is a wave. At medium water levels, it starts breaking and even regularly turns into a sticky hole. Not for beginners (brave intermediates should be OK). Swimming and resting is rather difficult, as there is not much of an eddy. See picture below (Copyright Dagger. Click on the picture to zoom in).
Best time: May-August. November-March: no wave at all.
Size: 5 mtrs x 1 mtr.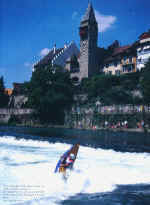 Playspot: Switzerland, Aargau, River Reuss, Bremgarten upper wave (Obere Welle / Walze)

How to get there

From freeway Bern, take exit Lenzburg. Go to Bremgarten through Wohlen. From freeway N1
Zurich direction Bern, take exit Urdorf, then exit Urdof-nord. Now follow signs
Bremgarten. In/just before Bremgarten, follow Bremgarten West (white signs). At the end of
the road just before the bridge, the parking place is on the right.

Locals
Fortunately the community of Bremgarten is tolerating our cars and gear at both waves!
At the surfing-wave one can even spend a night or two, although it is army-property. Since
the number of cars and campers have been increasing over the last few seasons we are
afraid that soon the limit of tolerance will be reached. Therefore we urge all paddlers
(and surfers) to respect the following points:


Lower wave - the road should always be open for cars driving to the
water-treatment-plant (note that an official of the community Bremgarten drives through
every day to see what's going on...) - if you camp there, don't be too obvious.
Generally - respect the locals and change 'in a decent way'!


As Bremgarten has become quite well-known (again) lately, you'll find much more
'foreigners' than locals (except for board surfers, of which the area has quite a lot).

More info
Online Reuss water level in Mellingen.
Simon Hirter.

Events
Wave & Wheels: late spring

Info sources
Jeroen, Tomi

| | |
| --- | --- |
| | Nearest weather station (°C): |