[please login to make this ad block disappear]
Articles
My favorite gear
:

Login first to add this to your Likes or Haves.
Grand Prix M1000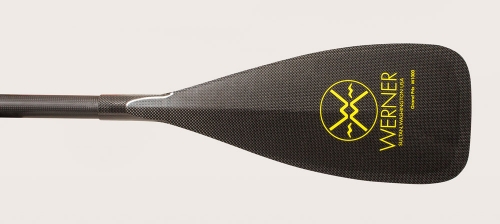 Paddle Info
Brand
Werner
33415 SR 2
Sultan
WA 98294
USA
Phone: +1 360 793-9488 x631

· Show brand details.
· Show all Werner products.
Recommended Retail Price
1Piece USD 389
Bent Shaft USD 465
Weight
1-Piece 418g / 14.75oz
Bent Shaft 517g / 18.3oz
Available Shaft Type(s)
Straight
Designed and manufactured specifically for racing the Grand Prix M1000 features a mid-size Performance Core blade. Mid-size blade will fit the widest range of paddlers. Absolutely the lightest training and racing paddle available.

•Mid-sized rectangular blade shape allows for the most efficient forward stroke
•Fits the widest range of paddlers or those looking to match blade size to board glide
•Thin ABS reinforce blade edge knifes cleanly in and out of the water
•Optimized blade-to-shaft offset at 12 degrees, allows for a more vertical blade position which increases power throughout the stroke and less lift at the exit
•Carbon Palm-style grip for a good fit and controlled strokes
•Recommended for racing. We do not recommend this paddle for surfing or whitewater.
FEATURES & FIT OPTIONS:

Create a custom fitting paddle to increase your performance, reduce your fatigue and have more fun on the water. Our Grand Prix Series of SUP's come standard with our Performance Core blade design, thin ABS edge, lightweight carbon shaft and carbon Palm-grip. You choose between Straight or Bent Shaft. Then use your height and primary paddling style to determine the correct paddle length. Then use your height and boat width to determine the correct paddle length. Visit Werner's Fit Guide to customize your paddle.


FEATURES & OPTIONS:

Mid-sized Performance Core Blades:

•Mid-sized blades for the widest range of paddles or matching blade size to board glide.
•Lightest Performance Core option available.
•Carbon weave for lightest weight to strength ratio.
•Narrow blade gets closer to the board for best forward stroke.
•Slight spoon at the tip creates clean catch that is immediately powerful and smooth.

Shaft & Grip:

•The shaft features a light weight carbon construction.
•An enhanced carbon Palm-grip is designed for maximum blade control and light weight.

Light Swing Weight:

•Swing weight is the weight you feel each time you lift your blade during a stroke.
•A light swing weight reduces fatigue and makes paddling more fun.

1-piece Shaft Carbon:

•The lightest weight option available.
•A lighter paddle reduces fatigue and makes paddling more fun.

Bent Shaft:

•Aligns your wrist to reduce fatigue.
•Allows for more hand to shaft contact while maintaining a lighter grip.
•Sizing is the same as straight shaft.

Correct Length:

•For Racing/ Training/Touring add 10" to your height to determine the correct paddle length
•With thicker race boards you may have to add length to your paddle

User reviews
There are no user reviews for this listing.