[please login to make this ad block disappear]
Articles
My favorite gear
:

Login first to add this to your Likes or Haves.
Ultralight Carbon Fiber SUP Paddle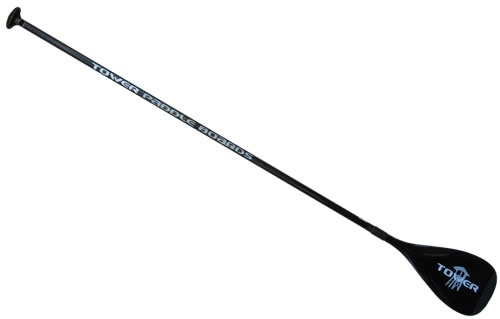 Paddle Info
Brand
Tower
4645 Cass Street, Suite 104
San Diego
CA 92109
USA
Phone: +1 858 362-4082
· Show brand details.
· Show all Tower products.
Recommended Retail Price
USD 189
Available Lengths
223.5cms
Weight
609 grams / 21.5 oz
Blade Material(s)
Fiberglass
Available Shaft Type(s)
Straight
The Tower Ultra light Carbon Fiber SUP paddle weighs in at a mere 21.5 ounces when cut to a length of 80 inches, a good length for a six foot tall person. If you're a bit shorter than that and cutting the paddle down a bit, it will even be lighter. The paddle starts at 87 inches and you cut it down to fit your size. It's an ultra light SUP paddle, but also extremely durable and well designed. This paddle is made in the same factory as SUP paddles you'll find in retail stores selling in the range of $250-$300 due to the wholesale plus retail markup thru the distribution channel. The design of the blade is a teardrop shape with a slightly flattened bottom edge. The face of the blade angles forward about 10 degrees and there is a slight cupping back near the bottom. The stylish matte black blade has a width of 9.25" and a depth of 16". The attachment point for the blade goes 6" up the shaft so the stress point on the paddle is not at a joint.

When we set out to add a carbon fiber paddle to the Tower line-up, we didn't look to get the cheapest paddle available that we could still call "carbon fiber", which is what you'll find out there from many companies. Be especially careful of the companies that bundle in paddles with boards. I've experienced the downside of this first hand in a board + paddle package I got at what I thought was a discount rate. The paddle broke on the second day it was used and stranded me in the middle of the bay with my 5 year old son on the nose of the board. I had to paddle back to shore with my hands. Fortunately, I wasn't in an area with strong currents or if could have been a dangerous situation I was left in. My take away was that paddles are an important safety component of stand up paddle boarding. Your board isn't going to fail the middle of a bay and leave you stranded, but a broken paddle will do just that. We took this to heart when developing our own carbon fiber paddles. We cut a chunk out of the cost of paddles by selling direct, but we didn't cut any corners on building in durability and a quality construction to an ultra light SUP paddle.

User reviews
There are no user reviews for this listing.