[please login to make this ad block disappear]
Articles
My favorite gear
:

Login first to add this to your Likes or Haves.
DIG Stand Up Paddle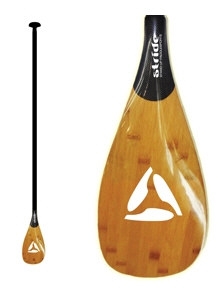 Paddle Info
Brand
Stride
1515 Harding RD
Blacksburg
VA 24060
USA
Phone: +1 703 297 7365
· Show brand details.
· Show all Stride products.
Recommended Retail Price
USD 329
Available Lengths
152-211 cm
The DIG carbon bamboo paddle makes for an incredible stand up paddleboarding paddle, canoe paddle, and outrigger paddle.
The DIG is specifically design to maximize the power of your stoke through a slightly spoon shaped blade design. In every way the DIG is a high performance paddle with a foam core carbon T-Grip, hollow carbon shaft, and a carbon blade with a bambo composite accent. All of this makes the DIG a one of a kind paddle.

Technical Specification:
Shaft Material: Carbon with hollow core
Shaft Length: Custom cut to your size
Grip Material: Carbon with foam core
Grip Design: Smooth palm grip design.
Blade Material: Carbon and bamboo composite with a foam core

Choosing the right length paddle?
The DIG is custom cut for any size that you prefer to have. A good rule of thumb for choosing the right paddle length is to choose a length that is 8 inches longer than you are tall for wave surfing and paddling whitewater rivers. A length that is 10 inches taller than you are will be better for flatwater paddling and racing. Choosing a paddle length is personal preferance and the rule of thumb advice above is just to point first time paddlers in the right direction. Feel free to contact Stride at any time to have any questions answer regarding the length of the paddle that you would like.

User reviews
There are no user reviews for this listing.