[please login to make this ad block disappear]
Articles
My favorite gear
:

Login first to add this to your Likes or Haves.
Butterknife Double Bladed SUP Paddle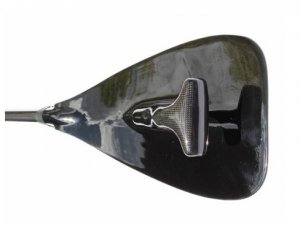 Paddle Info
Brand
Hala
PO Box 771685
Steamboat Springs
CO 80487
USA
Phone: +1 970-439-0047
· Show brand details.
· Show all Hala products.
Paddle Environment
Lakes
Oceans
Rivers
Surf
Whitewater
SUP better with a double bladed Hala Butterknife Paddle. Two blades are not just better than one, they are more versatile, more powerful, and more fun! Get out to the lineup faster, navigate whitewater more easily, and kayak or paddle from a kneeling position. Adjustable length, carbon fiber shaft and fiberglass blades.

The Hala Butterknife Double Bladed SUP Paddle is a regular stand up paddle all day long, with benefits! Kneel down, sit, or stand-up! You can tackle every SUP adventure:

• Now 3 Pieces (travel size, fits rolled in your board!)
• Get out to the lineup or eddy faster after a surf
• Get out of the impact zone faster and catch more waves
• Power through strong wind
• Beat whitewater – stand or sit whenever you want
• Get out to the waves faster and easier, and surf more!
• Recover your line after a fall in whitewater
• Get into the eddy, up the eddy, and chill until you next chance to surf a standing river wave
• Dial in the wave from your knees and surf more!
• Relax on the river, lake or ocean, and stand when you're ready
• Use both blades to brace and get where you need to be
Used with the optional kayak seat, and your Hala inflatable stand up paddle board
User reviews
There are no user reviews for this listing.