[please login to make this ad block disappear]
Articles
My favorite gear
:

Login first to add this to your Likes or Haves.
Challenge Stand-Up Paddle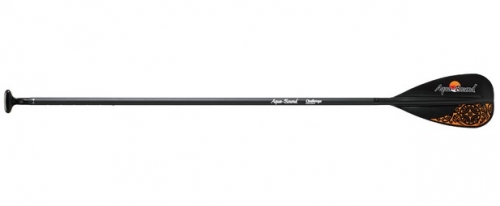 Paddle Info
Brand
Aquabound
812 Prospect Court
Osceola
WI 54020
USA
Phone: +1 715-755-3405

· Show brand details.
· Show all Aquabound products.
Available Lengths
70in, 72in, 74in, 76in, 78in, 80in, 82in, 84in, 86in, 70-80 in, 76-86 in
This paddle is for serious paddleboarders who appreciate its 100% carbon shaft, contoured palm grip and carbon-reinforced proprietary resin blade. The Challenge comes in both adjustable and fixed lengths, and each is super lightweight - just 28 oz. for the adjustable length paddle, and a mere 25 oz. for the fixed length style. With materials and weights like these, you know your time on the water will be less fatiguing. The Challenge's stiff, durable blade grabs more water and delivers more power with every stroke to propel you further, faster.

And…it looks really cool. This paddle's eye-popping Polynesian graphics make a real statement on the water.

Paddle Construction:
1pc
2pc

Blade Material-SUP-Carbon-reinforced proprietary resin

This resin is more hydrophobic than most other molded blades, which means it won't absorb water and pick up extra weight as you paddle. Because it's reinforced with carbon fibers, this blade is stiffer and more durable than most other Stand-Up blades – no whippy, wimpy blade here.
Technology:
Blade Material
Shaft Material-SUP 100% Carbon

The 100% carbon shaft offers both exceptional durability and super light weight. The shaft has a 10° bend for more comfortable paddling.

Technology:
Shaft Material
Grip-Blow Molded Resin

The grip is a blow-molded resin that provides smooth paddling comfort and the super light weight so important to paddle boarding

Blade Width: 8.50in

Blade Length: 17in

Blade Surface Area:
100 sq.in.
645 sq.cm
User reviews
There are no user reviews for this listing.