[please login to make this ad block disappear]
Articles
My favorite gear
:

Login first to add this to your Likes or Haves.
NC103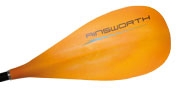 Paddle Info
Recommended Retail Price
from GBP 55
Available Lengths
193cm, 195.6cm, 198.1cm, 200.7cm, 203.2cm, 205.7cm, 208.3cm, uncut
Available Shaft Type(s)
Straight
A tough nylon/glassfibre SUP paddle with a refined teardrop dihedral blade. Available with extra long shafts 74"-85".

Specifications:
nylon-glassfibre composite blade material
comfortable T grip
alloy shaft with PVC coating
paddle size given in inches due to the sport's Hawaiian origins

Blade:
Ainsworth use a tough nylon-glassfibre composite construction for superb durability and performance to give a strong, 'all round' paddle. Launched in 2006, the material yields 260 Mpa tensile strength - that's over double the strength of the nylon 12 used in many other nylon paddles. Ainsworth's Nylon blade is much stiffer than any other nylon paddles. The shaft is pressed into the blades with hydraulic pressure to a depth of 10cm, ensuring a watertight joint and a continuous feel from shaft to blade tip. The high strength of the material means that the blade can be made lighter.

Shaft:
This paddle is available with the following shaft options:
straight titanium enriched alloy shaft: corrosion resistant alloy specially selected for paddling use.
straight glass/epoxy prepreg shaft: made with Ainsworth filament wound technology - 30% more strength for the same weight.
straight carbon shaft: made with Ainsworth filament wound technology - significantly lighter than our glass/epoxy shafts.
All paddles are supplied fitted with a comfortable T grip. Optional crank shaft

•Shaft Options:
1pc alloy (A)
1pc glass (G) straight (+GBP 30.00)
1pc carbon (C) straight (+ GBP 50.00)
User reviews
There are no user reviews for this listing.