[please login to make this ad block disappear]
Articles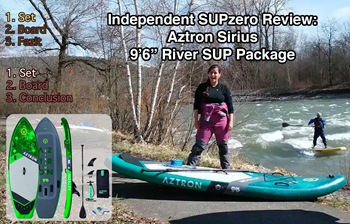 We just released a video with an independent SUPzero review of the Aztron Sirius river SUP. The video is in German, with English subtitles. Since our independent reviews normally come in the format of posts on our website, we will sum it up here as regular content as well.
First of all, let me link in the actual Youtube video here:
Since the complete text is already included in the video, both in German audio and English subtitles, I will just sum up the main facts and conclusions here.
Price

+ Only EUR 599 for complete set
+ Great price-performance - many features and fair quality and performance at an unbeatable price

Set

+ Very complete: board, fins, backpack, repair set, pump, paddle

Board

+ Metal D-ring for towing/anchoring
+ Diamond cut deck pad
+ Kick pad
+ 3 deck handles
- No deck handle on tail
2 Chambers

+ Added safety
+ Added stiffness
- Valve of outer chamber too close to center of board - makes it a bit more difficult to deflate completely

Fins

+ Very configurable with 1 center fin and 4 side fins
+ All fins replaceable
+ Sliding fins are cheap to replace
- Fins too far forward
- Fins too long
- Fins too brittle
- Two incompatible sliding systems - cannot be swapped and smaller side fin system is more difficult to find on market

Performance

+ Good continuous rocker
+ Very stable and forgiving
- Position of fins gives the board an unusual pivot point, and makes it hard to lift fins over obstacles

Quality

+ Board feels solid
+ Board survived a lot of abuse very well
- Board got a small twist towards the end of our testing. We only noticed this after shooting all videos. The twist was less than an inch, and didn't affect paddling performance.
~ Two glued corners loosened a bit, but this only affected looks, not the integrity of the board

Paddle

+ 3-piece adjustable, simple but solid shaft and blade
+ Fair weight for an aluminum paddle
- Some added bright colors would make it easier to find back in the river

Leash

+ Coiled
+ Matching colors
- Dangerous to use on rivers - requires extra quick release system, and a security warning in the package

Conclusion

+ Very affordable
+ Very complete
+ Fair quality
+ Best suited for deeper rivers and oceans
This review was written in March 2019, after more than a month of intense testing, by Victoria Gross and Jeroen Houttuin.