[please login to make this ad block disappear]
SUPzero News Watch

Covering the World's Paddling News by the Minute!



SUPzero News Flash
The famous SUPzero News Flash informs tens of thousands of paddlers around the world about the most popular paddling news each day. SUPzero editors hand-pick the best headlines 24/7, and those that are viewed most by our readers are sent out in the News Flash. Each Friday, we send out the Weekly Digest (instead of the daily News Flash), containing the top headlines of the past 7 days, as well as the most popular videos and forum topics, plus a list of upcoming events.

SUP Magazine (29 min. ago) - Here is Charles Webb, who cannot walk and till this year could not rehabilitate his injured shoulders that troubled him since 2010. Kawika Watt, developed a Stand Up Paddle board for disabled people that can hold a wheel chair and Webb after training for paddle became stronger and his shoulders healed. He became so hooked that he even enrolled himself to race for 4km in the Battle of the Paddle and he caught waves which thrilled him. As he says we need to help each other and stay positive. Read on… read more...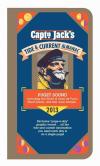 Rob Casey (2 hrs. ago) - If you have paddler friends consider gifting them the following book and calender. The book 'Capt'n Jack's Tide & Current Almanac 2014' gives good information on tides and currents, with this book you should be able to learn when to paddle for tides and currents. read more...

Standup Journal (6 hrs. ago) - Need more proof that SUP can be therapy to an ailing body? Jodelle Fitzwater, tells us why Stand Up Paddling is great for all. Read on and then see the benefits of taking up a stand yourself with Stand Up Paddling. Jodelle Fitzwater is the Midwest Ambassador for BiC SUP and Certified Fitness Trainer for SUP TV. read more...

Boardworks SUP (19 hrs. ago) - Boardworks and Infinity SUP have teamed up with Ocean Minded for their Holiday Board Bash Give Away Sweepstakes. You can win a new SHUBU MOD inflatable by Boardworks, an Infinity 8'5 TL SUP, surfboards, and skateboards at the Ocean Minded Holiday Board Bash presented by Supconnect. read more...


Distressed Mullet (Dec 12) - Hobie is a family business run by a tight-knit group of people who've worked, surfed, and enjoyed life together for years. I don't know what the average tenure is there, but I'm sure it's somewhere in the "since birth" range. read more...
More headlines:
To propose a new news site for us to monitor, please contact Jeroen. Space is limited, so I can't promise anything. Being able to show me an RSS feed for your news will definitely improve your chances...

Need even more paddling news?! The above is a hand-picked selection from the huge pool of sites that we scan. To see the complete list of all unfiltered headlines (partly below sub-prime quality of course...), follow us on Twitter: Follow @kayaknews