[please login to make this ad block disappear]
SUPzero News Watch

Covering the World's Paddling News by the Minute!



SUPzero News Flash
The famous SUPzero News Flash informs tens of thousands of paddlers around the world about the most popular paddling news each day. SUPzero editors hand-pick the best headlines 24/7, and those that are viewed most by our readers are sent out in the News Flash. Each Friday, we send out the Weekly Digest (instead of the daily News Flash), containing the top headlines of the past 7 days, as well as the most popular videos and forum topics, plus a list of upcoming events.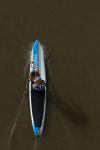 Distressed Mullet (37 min. ago) - Note from the editor (The Mullet): Kathy has been a Mullet contributor and is the first one in our group who has had extended time on the Surftech Bark Vapor. Kathy has been paddling in the Washington DC area, organizing events and instructing for years, so we trust her perspective. Anything she writes isn't going to be because of some tasty coolade. read more...
Elder SUP (1 hour ago) - We often get questions about what equipment is needed for Power of Presence SUP (P2SUP). Once you download a collection of our guided meditations for paddling you are just about ready to go. read more...

Distressed Mullet (2 hrs. ago) - I got to take a tour of the 2016 Riviera FishOn at the Fall Surf Expo in Orlando. It has every tie-down and ram mount imaginable. read more...
PaddleFit (3 hrs. ago) - Our first certification in Europe is a great success. This is the start of exciting growth and the evolution of PaddleFit. Thanks to our cert coach Jodelle for making the trip and to Bellagio Water Sports for being a great host. read more...


Waterman League (4 hrs. ago) - Caio Vaz (Art in Surf) was in the final back in 2012 when Leco Salazar (New Advance) won his World Title, so felt the emotion and excitement of being able to bring a World Title home to Brazil. read more...
More headlines:
To propose a new news site for us to monitor, please contact Jeroen. Space is limited, so I can't promise anything. Being able to show me an RSS feed for your news will definitely improve your chances...

Need even more paddling news?! The above is a hand-picked selection from the huge pool of sites that we scan. To see the complete list of all unfiltered headlines (partly below sub-prime quality of course...), follow us on Twitter: Follow @kayaknews
| | |
| --- | --- |
| Paddle News Watch in other languages: | Recent News Watch Searches |