[please login to make this ad block disappear]
Articles
My favorite gear
:

Login first to add this to your Likes or Haves.
Carve: Hooked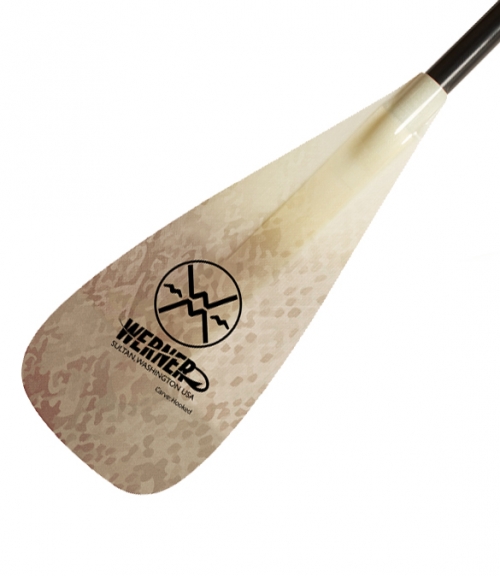 Paddle Info
Brand
Werner
33415 SR 2
Sultan
WA 98294
USA
Phone: +1 360 793-9488 x631

· Show brand details.
· Show all Werner products.
Blade Material(s)
Fiberglass
Available Shaft Type(s)
Straight
Carved by hand, shaped to give you a softer feel on the water.

The goal here is to catch more fish, not paddle more. So the Carve: Hooked's design makes it ideal for stand-up paddle fishing, as it allows plenty of power without wearing out the angler. Built from light weight and durable materials, it'll help you to the flats and site casting to more fish.
Details

• Premium Performance uses material choice and manufacturing skill to allow for a perfect combination of light swing weight and stiffness.
• Fiberglass blade construction gives you a compromise between swing weight and value.
• As innovators we saw a need to move from the tear drop shape. Our longer, rectangular, slender blade design is easier on the body with a more gentle catch that does not sacrifice blade size and power.
• Seven degree blade-to-shaft offset offers a great forward stroke while freeing the blade from catching while surfing.
• Dihedral allows for smooth and stable forward paddling, a core philosophy for Werner.
• Mid-sized blades are an ideal fit for the great majority of average size paddlers.
• Optimized flex and strength from our shaft to be comfortable in all applications.
• Advanced Fit options to outfit you or the tribe. Choose our carbon blend Straight Shaft in fixed length, adjustable or travel adjustable.
• Scales: Grey Hooked patterned in our fiberglass laminate blades.

PRODUCT SPECIFICATIONS
Shaft Option Pieces Weight Grams Weight Ounces Length Range

Straight 1 Piece; Weight - 617g. (21.75oz.); Length Range- 50" - 86" in 1" increments. (87" to 90" add $5.00)

Straight Adjustable; Weight - 709g. (25oz.); Length Range- 70" - 77.5" | 74" - 81.5" | 80" - 87.5"

Straight Travel Adjustable; Weight -794g.(28oz.); Length Range- 70" - 77.5" | 74" - 81.5" | 80" - 87.5"

Blade Surface Area 100 in2
Blade Length x Width 19in x 7.25in
User reviews
There are no user reviews for this listing.