[please login to make this ad block disappear]
Articles
My favorite gear
:

Login first to add this to your Likes or Haves.
SUP S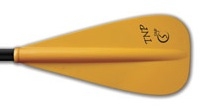 Paddle Info
Brand
TNP
České Vrbné 1906
České Budějovice
370 11
Czech Republic
Phone: +420385522890
· Show brand details.
· Show all TNP products.
Its main feature is the blade material. The blade is made from polycarbonate composite material. This material is very resistent yet pliable and in the same time very light-weighted. Thanks to these characteristics it greatly reduces stress impact on the muscles or joints of the rider.
We standardly offer the paddle on duralumin or composite shafts. The composite shafts have a specially sanded surface. You can also opt to choose an extension up to 20 cm with our variable YP coupling.

This combination is very suitable especially for the rental companies as it manages easily the diversely tall riders.

All models are manufactured with wooden, ergonomic shaped hand grip. This model is suitable for short, endurance runs and competitions.

The SUP S is suitable for juniors or women.

The optional YP coupling enables the user to set any type of angle without taking the paddle apart or using any additional instruments.

This coupling further allows a fluent paddle extention up to 10 cm, for SUP paddles up to 20 cm. This coupling can be used for any our kayak paddle or SUP paddle.


L: Blade area: 550 cm2

Blade Material: PC.
Shaft material options: Dural, Glass Fiber, Carbon.
User reviews
There are no user reviews for this listing.