[please login to make this ad block disappear]
Articles
My favorite gear
:

Login first to add this to your Likes or Haves.
Elite SUP Paddle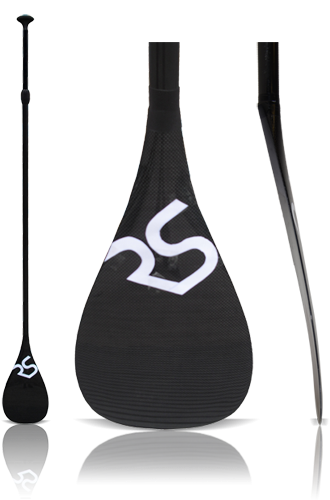 Paddle Info
Brand
Rave SUP
3325 Labore Road
St Paul
MN 551101
USA
Phone: +1 (800)-659-0790
· Show brand details.
· Show all Rave SUP products.
Lightweight and strong, this paddle is a performance hog giving intermediate to advanced paddlers the power they need to have a smooth, fast release.

The Elite adjustable full carbon fiber SUP paddle is designed for high performance paddling offering strength, durability and versatility.

An ergonomic handle provides ease of paddling, and the 9.25" x 16" blade is an optimal shape for long range and recreational race paddling. The Qwik Snap system allows for simple adjustments from 69" to 85" height. Weight 1.7 lbs. Carbon Fiber construction. 9.25" x 16" blade.

When adjusting your paddle generally, the paddle height should be 8-10 inches above the paddler's height. Starting with no shoes on and arm raised, your paddle handle should sit in your palm.

Features
• Carbon Fiber shaft & blade
• Qwik Snap adjustment system
• Blade width: 9.25"
• Blade height: 16"

User reviews
There are no user reviews for this listing.