[please login to make this ad block disappear]
Articles
My favorite gear
:

Login first to add this to your Likes or Haves.
Mako Signature Series Stand Up Paddle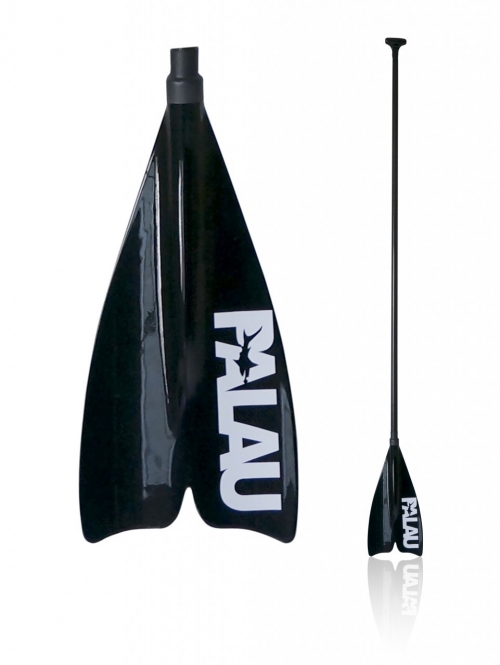 Paddle Info
Brand
Palau
PO Box 4120 # 82313
Portland
OR 97208
USA
Phone: +1- 888- 997 2528
· Show brand details.
· Show all Palau products.
Recommended Retail Price
USD 303.45
Available Lengths
Paddle length can be custom sized upto 86"
Our Signature Stand Up Paddle leverages a fin design that draws inspiration from sharks. Creating an unforgettable experience. The team took the traditional tear drop design and turned it on its head.

We used advanced computer models to simulate water flow on our blade to ensure maximum coverage with power and precision.

The cut out on the base of paddle is similar to what you see on sharks dorsal fin. It helps to guide the water up over the blade face and that's when our nanotechnology covering comes into action.

Each paddle has been coated with a nano technology covering that mimics the denticles or riblets you find on sharks.

These micron level particles are filled with awesomeness - but they are very small (smaller than the thickness of your hair).

We leverage marine grade materials from a supplier to the US Navy and our design team included a former Naval architect who built submarines - so we think we are pretty good under the water too.

Our paddles come with an egornomic handle and full carbon shaft - If you would like us to cut the shaft to your specifications we are happy to do so for free. Please specify your requested paddle length at checkout and see our most helpful sizing guide for more information. Features

• Lightweight ALL carbon paddle
• Signature Palau Logo design
• Nano-Tech Mako skin applied to the paddle face
• Diheral Face 9 " wide
• Blade weighs just 20 Ounces
• Performance 11 degree blade
• 1 Year Warranty
User reviews
There are no user reviews for this listing.