[please login to make this ad block disappear]
Articles
My favorite gear
:

Login first to add this to your Likes or Haves.
Kaholo 8.5 Fixed RDS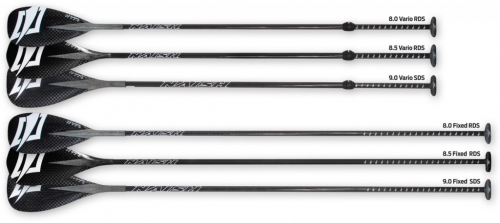 Paddle Info
Brand
Naish
155 Hamakua Dr
Kailua
HI 96734
USA
· Show brand details.
· Show all Naish products.
Recommended Retail Price
USD 399
Available Shaft Type(s)
Straight
8.5″ Blade
The 8.5″ (21.59cm) blade is for medium to heavy riders. This blade size provides the perfect blend between high frequency stroke rates and power strokes. It features channel shaping for a straighter stroke and a reduced tip area for cleaner water release. Surface Area: 743 cm²

Shaft: RDS

Width: 21.6 cm

FEATURES

#VARIO PRESSURE CLEAT
• PRESSURE CLEAT ADJUSTMENT
• VERTICAL AND HORIZONTAL MARKINGS
• ADJUSTABLE WHILE PADDLING FOR RACING OR WAVE RIDING

#TAHITIAN STYLE T-HANDLE
• POWER TRANSFER TAHITIAN DESIGN
• TRACTION GRIP COATED T-HANDLE
• LOW PROFILE FOR EASY GRIP
• ULTRA-LIGHTWEIGHT HOLLOW CONSTRUCTION

#BLADE COVER
• PROTECTS THE BLADE DURING TRANSPORT
• PREMIUM PADDED 600D MATERIAL
• ACCESS ZIPPER

#PADDLE SHAPING:
CAD-GENERATED BLADE SHAPES

#SHAFT CONSTRUCTION
• 3K CARBON PRE-PREG SHAFT: MAXIMUM STIFFNESS AND REFLEX, LIGHTWEIGHT
• CARBON/KEVLAR SHAFT: HIGHEST IMPACT DURABILITY
• FILAMENT-WOUND CARBON SHAFT: SOFTER REFLEX FOR A MORE FORGIVING STROKE
• DURABLE T6 ALLOY

#SHAFT DIAMETER
OPTIMIZED SHAFT DIAMETERS FOR PADDLERS OF ANY SIZE.

User reviews
There are no user reviews for this listing.