[please login to make this ad block disappear]
Articles
My favorite gear
:

Login first to add this to your Likes or Haves.
8.0 Vario RDS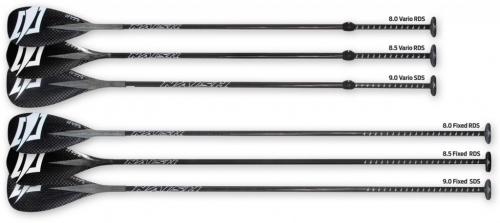 Paddle Info
Brand
Naish
155 Hamakua Dr
Kailua
HI 96734
USA
· Show brand details.
· Show all Naish products.
Recommended Retail Price
USD 449.00
Weight
550 grams / 19.4 oz
Available Shaft Type(s)
Straight
Full carbon, mega-lightweight, high-performance paddles for competitive racing and wave riding.
Kaholo Vario Paddles
• 100% 3K pre-preg carbon blade
• 100% 3K pre-preg carbon shaft
• Vario pressure cleat
• Vario alignment measurements
• Tahitian T-handle with traction grip
• Blade edge protector included
• Padded blade cover included

Specifications
8.0″ Blade
The 8″ (20.32cm) blade is for medium to light riders in all-around conditions.

Width: 20.3cm
Surface Area: 696 cm²

Features
#Vario Pressure Cleat
• pressure cleat adjustment
• vertical and horizontal markings
• adjustable while paddling for racing or wave riding

#Tahitian Style T-Handle
• power transfer tahitian design
• traction grip coated t-handle
• low profile for easy grip
• ultra-lightweight hollow construction

#Blade Cover
• protects the blade during transport
• premium padded 600d material
• access zipper

#PADDLE SHAPING:
CAD-GENERATED BLADE SHAPES

SHAFT CONSTRUCTION
• 3K CARBON PRE-PREG SHAFT: MAXIMUM STIFFNESS AND REFLEX, LIGHTWEIGHT
• CARBON/KEVLAR SHAFT: HIGHEST IMPACT DURABILITY
• FILAMENT-WOUND CARBON SHAFT: SOFTER REFLEX FOR A MORE FORGIVING STROKE
• DURABLE T6 ALLOY

SHAFT DIAMETER
OPTIMIZED SHAFT DIAMETERS FOR PADDLERS OF ANY SIZE.





User reviews
There are no user reviews for this listing.