[please login to make this ad block disappear]
My favorite gear
:

Login first to add this to your Likes or Haves.
FX Blend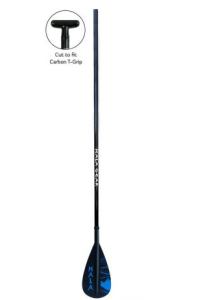 Paddle Info
Brand
Hala
PO Box 771685
Steamboat Springs
CO 80487
USA
Phone: +1 970-439-0047
· Show brand details.
· Show all Hala products.
Grafik FX Blend combines the durability of fiberglass and lightweight properties of carbon for a blended shaft, making this paddle extremely dynamic. With a customized cut-to-fit shaft, you can use the and carbon t-grip (secured with reinforced glue) to increase the lightweight benefits. Or, opt for the 6" adjustable LeverLock handle for more versatility to your custom fit paddle. A 7 Ply CFRT Fiberlite™ Grafik blade is tough and performance focused, perfect for any adventure you chose. Grab an FX Blend and perform on any waterway.

Paddle Tech Details – We're obsessed to deliver the best!

• Cut-To-Fit Blended Shaft
A combination of the lightweight properties of carbon with the rigidity of fiberglass, this is a great, dynamic, all-around paddle. The shaft is cut-to-fit for your specific size and is reduced weight for performance. For the cleanest, smoothest, cut, we recommend using a tile saw.

• Lightweight Handle
Use the fixed carbon-t grip handle with reinforced glue for the lightest option. Or, opt for more versatility and use the 6" adjustable LeverLock for adaptability within your cut-to-fit.

• LeverLock Adjustable Handle
The adjustable LeverLock handle is easy to set int place and won't budge for maximum bracing and supreme stability. Fit it to your adventure or maneuver it to share with friends and family.

• 7 Ply CFRT Fiberlite™ Grafik Blade
Our CFRT (Continuous Fiber Reinforced Thermoplastic) Fiberlite™ blades give you 7 layers that have the durability of fiberglass and the impact resistance of reinforced plastic for high performance.

• No-Sink Paddle
Designed to keep water out and float all day long. You can feel confident you won't lose your paddle on the water.


User reviews
There are no user reviews for this listing.