[please login to make this ad block disappear]
Articles
My favorite gear
:

Login first to add this to your Likes or Haves.
Stand Up 1-Piece Fiberglass 8.5"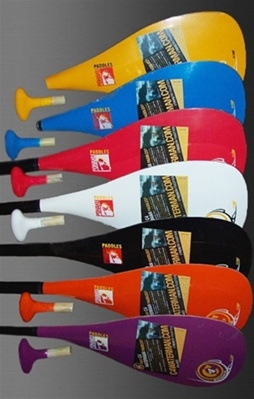 Paddle Info
Recommended Retail Price
USD 235
Shaft Material(s)
Fiberglass
Blade Material(s)
Fiberglass
Available Shaft Type(s)
Straight

C4 Waterman(tm). C4, or Core 4 represents the 4 core disciplines of a waterman: STRENGTH, ENDURANCE, BALANCE, and TRADITION. This paddle blade is not like the usual "flat-styled" canoe paddles with long handles. The C4 Waterman was specially designed for paddle surfing with a new keel-shaped blade neck on the powerface of the blade. This helps to steer the paddle straight for less paddle wander when taking hard strokes for the waves. This will also help steer the paddle and help minimize rail banging. Also, the wide point of the blade is down deep for a more positive bite in the water, and the front of blade features a "flowing curved face", allowing you to easily skim the blade across the water when "pulling Gs" on those hard bottom turns. This is a departure from the flat-blade canoe paddles that can catch an edge when skimming paddle across the water.

Features:
The 8.5 inch keel-shaped blade width provides plenty of power
Easier to control than our larger width blades
Less tendency to bang the rail of your board
It doesn't pull you off balance when you take a stroke
Less blade to manage when you are riding the waves
Textured shaft for easy grip
90 day limited warranty

Technical Specifications:
Fiberglass palm grip
Oval fiberglass shaft
8.5 inch patent pending keel-faced fiberglass blade.
Length: Up to 86 inches.
Blade width 8.5 inches (21.6 cm)

Height: 6'6", 6'4", 6'2", 6', 5'10", 5'8", 5'6", 5'4", 5'2"
Paddle Height; 85", 83", 81", 79", 77", 75", 73", 71", 69"

Blade Color: Black, Orange, Red, Light Blue, Yellow




User reviews
There are no user reviews for this listing.