[please login to make this ad block disappear]
Articles
My favorite gear
:

Login first to add this to your Likes or Haves.
Vaz Brothers Small - Ian Model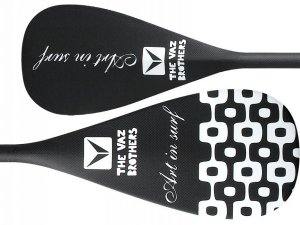 Paddle Info
Brand
Art in Surf
HI
USA
Phone: +1 808 634.3033
· Show brand details.
· Show all Art in Surf products.
The Art in Surf Vaz Brothers Small paddle is the preferred by Ian Vaz. It has a very precise and fast stroke, it pulls through the water with ease and still delivers a great glide. Given its different construction and shaft connection to the blade, it gives more spring to each stroke, diminishing the power needed to achieve the same glide on other paddles. It is very responsive and great to use on the surf, easy to exchange hands and put pressure on bottom turns and other progressive maneuvers.


Shaft and Blade 100% 3K Carbon
Area: 575cm² / 89,1in²
User reviews
There are no user reviews for this listing.