[please login to make this ad block disappear]
Articles
My favorite gear
:

Login first to add this to your Likes or Haves.
Gradient Shoes
Featured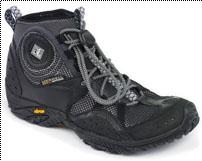 Gear Info
Brand
Palm
Kenn Business Park
Clevedon
North Somerset
BS21 6TH
UK
Phone: +44 1275 798100

· Show brand details.
· Show all Palm products.
Material(s)
2mm neoprene, airmesh, Vibram rubber sole
Available Colors
Black/Grey
Recommended Retail Price
£69.95
The result of combined R&D between Palm and Merrell, the Gradient is the most capable creek shoe ever built. Supurb grip on wet rock, excellent comfort even when wet and a low profile design for cramped cockpits.

Features include:

• Vibram super sticky rubber (climbing compound) outsole for superior wet traction with razor-cut siping
• Rubber overlays for durability and protection
• Padded ankle for comfort
• Synthetic leather overlays for wet performance
• Pull loops for ease of entry
• EVA strobel insole for sockless comfort
• Laces for secure fit and comfort on long portages
• Unlined airmesh upper keeps debris out and lets water drain freely
• Cushioning midsole for comfort
• Stretch neoprene collar keeps grit out and provides a secure fit.

User reviews
I Am ony recomending this shoe because it does work and there is nothing else out there for someone with a larger foot. You would think that a company like Palm and or Merill would know by now that you don't sew a pull tab into the neopreme!!!!!!!!!!!!!! especially when there is beefier materal right there!!! ARE YOU KIDDING!! Started ripping the 2nd day, no shit. A hole developed between the top 2 stitches. Now both rears are in shambles. Trying to replace them from the USA, where they are not sold would have been a major hassel...
Review
About Me
creek boater....have about 60 days on this pair of shoes.
Pros / The Good
sticks better than 5.10 rubber, great foot protection, stays put even when portaging on exstream sidehills, size 12 fits in a boat.
Cons / The Bad
Started tearing after 2nd day. Cost
Was this review helpful to you?