[please login to make this ad block disappear]
Articles
My favorite gear
:

Login first to add this to your Likes or Haves.
Special 9'10"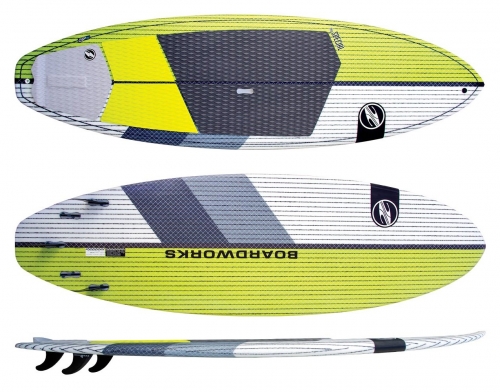 Short Facts
Stats
Please login to see full stats.
Designed and tested in southern California, the Special is a "daily-driver" performance surf SUP. Your go-to board for surf in the 2′-6′ range. The Special also doubles as a nice cruiser for those looking for a smaller SUP than most standard boards on the market.


Features:

• Thin foils allowing the surfer to easily set the rail in bottom and top turns
• Perfect amount of rocker for maneuvering on the wave and getting into the pocket
• Soft diamond tail helps keep the board loose and playful with good water release
• Full outline, maintaining some width for a stable cruising platform
• Tool-less FCS II 5 fin box setup to allow for a variety of fin configurations such as trip quad, and twin options
• Built with our exclusive Krypto-Flex Carbon Innegra layup. Utilizing an EPS core, epoxy resin, layers of Innegra, carbon strand (for strength, stiffness, weight reduction), and fiberglass layers. This construction yields a board that has the performance flex characteristics of polyester surfboards, with an incredible strength to weight ratio, courtesy of the Innegra cloth and epoxy resin

Size and Ability

Novice: up to 170lbs
Intermediate: up to 200lbs
Advanced: up to 250lbs
User reviews
There are no user reviews for this listing.