[please login to make this ad block disappear]
Articles
My favorite gear
:

Login first to add this to your Likes or Haves.
Phoenix 8'0"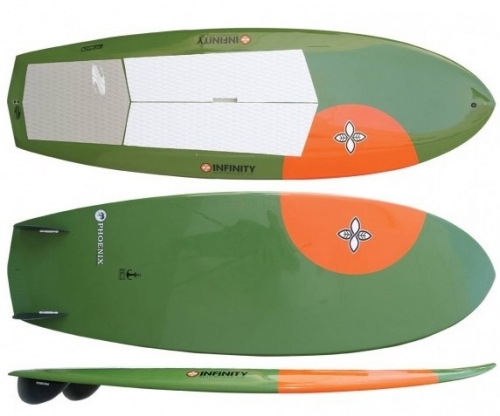 Short Facts
Stats
Please login to see full stats.
The Phoenix is a mini Simmons style SUP designed by Dave Boehne and Infinity team rider Chris Hill… Fast, stable, and a fun fishy ride.

Features:

• Short, wide, and carries more volume than your typical board
• Allows a rider to go much shorter, while maintaining fantastic stability and paddle speed
• Parallel outline and wide tail allow the board to have automatic speed from take off, and get the board up and planing on it's own
• ProBox twin keel fin setup, designed by Larry Allison, for unmatched speed and maneuverability

Size and Ability

Novice: up to 150lbs
Intermediate: up to 180lbs
Advanced: up to 225lbs


EPX: Our basic hand finished epoxy board construction resulting in superior quality, affordable boards. Constructed of single density, stringerless, handshaped EPS cores with epoxy resin laminations and painted with superior automotive grade paint and polish coat, with a hand sanded finish or gloss finish.

Features:

• EPS core, hand shaped
• Deck is 3 layers of 4 oz with full rail lap
• Bottom is 2 layers of 4 oz with full rail lap
• All components are set in high density foam blocks

User reviews
There are no user reviews for this listing.