[please login to make this ad block disappear]
My favorite gear
:

Login first to add this to your Likes or Haves.
Flying Pig 5'8"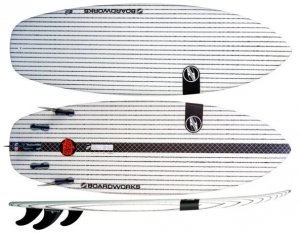 Short Facts
Stats
Please login to see full stats.
The Flying Pig will surprise you by it's high speed and performance characteristics. There is a lot packed into this little board that will get you up and flying faster – you'll find yourself ripping on small days. Krypto-Flex technology combines impact resistance of epoxy surfboards with the feel and flex of polyurethane boards, making the Flying Pig light & extremely responsive with unique flex characteristics.



Features:

Generous volume for catching more waves
Flat, full and wide nose
Fairly flat rocker for speed
Volume is distributed further into the rails and farther out to the nose and tail
Double concave through the fins
FCS II tool-less five box system for a variety of setups and fin options


Fins: 5
User reviews
There are no user reviews for this listing.