[please login to make this ad block disappear]
Articles
My favorite gear
:

Login first to add this to your Likes or Haves.
Eradicator Brushed Carbon 12'6"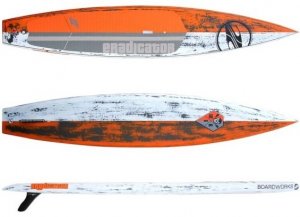 Short Facts
Stats
Please login to see full stats.
The Eradicator is an ultra-fast and versatile race SUP designed for elite and recreational racers alike. It excels in a variety of conditions from flat-water to ocean races, downwind, and in and out of surf.


Features:

• Fairly flat rocker for speed
• Flat bottom, V off the tail for easy water release
• Filled in cockpit for easy foot movement
• Increased volume in the foredeck allows the paddler to get further forward to allow more of the waterline to be engaged for speed in flat-water
• The bow is dropped on the deck for clean bow penetration and shedding water in chop and bumpy surface conditions
• The bow is tucked up underneath to increase the rocker for better surf performance
• Wide point moved back for stability
• Low entry rocker for excelling in flat-water
• Fin placement forward for fast buoy turns and performance in the surf
• Self regulating vent plug
• Single tour/race fin for speed and tracking equipped with FCS connect tool-less system for quick, hassle-free fin installation and removal
Ergonomic finger-well handle


Technology

Brushed Carbon | NEW : Boardworks high tech Brushed Carbon was developed for the need to keep stiffness in the board while keeping weight down. This construction results in a very light, responsive and flex-free hull.

Features:

• Low density stringer-less EPS core, CAD designed shape, machine cut and hand finished
• Hand laminated with multiple layers of carbon and fiberglass cloths – all bound with the highest quality epoxy resin for a superior strength to weight ratio
• Extra reinforcement laminate in the standing area
• The hull is painted with a 3 part automotive paint that is partially sanded down to offer U/V protection while shaving paint weight
• All components, fin boxes, finger-wells, leash and deck plugs are set in high density foam blocks
• Self regulating vent plug to relieve pressure in heat and high altitude

Size and Ability

Intermediate: up to 165lbs
Advanced: up to 195lbs


User reviews
There are no user reviews for this listing.