[please login to make this ad block disappear]
My favorite gear
:

Login first to add this to your Likes or Haves.
Rhino Hit Pkg 10'6"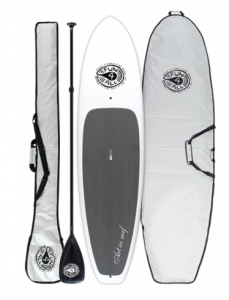 Short Facts
Stats
Please login to see full stats.
10'6" RHINO HIT FUN4ALL PACKAGE DEAL Everything you need to get started with Stand Up Paddling is here, this board will outlast the competition and it is lighter then any of the comparable technologies around. This package features our new RHINO HIT (High Impact Technology), developed to withstand the abuse and wear and tear of the most demanding SUP Schools around. With a Polycarbonate outer shell it gives this board the added resistance you are looking for on a beginner board, also our state of the art rail protection will keep the board rails from scratching from the paddle use and from dragging it along the sand. Your RHINO PACKAGE includes a 10'6" SUP board, a boardbag made to fit this model, a fin and a leash, and an adjustable fiberglass shaft paddle with a thermo molded plastic blade, and a paddle bag to better care your new love.



Weight Capacity - Beginner: up to 115kg/250 lbs

Other items along with this board

• Adjustable Fiberglass Shaft Paddle
• 10" Fin
• Boardbag and paddle bag


User reviews
There are no user reviews for this listing.