[please login to make this ad block disappear]
Articles
My favorite gear
:

Login first to add this to your Likes or Haves.
Shark 12'6" SL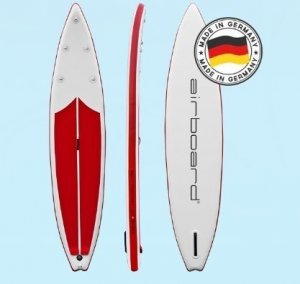 Short Facts
Stats
Please login to see full stats.
Function
Fast and ultra-light SUP for long Distance

MADE IN GERMANY. This slim elegant 12'6'' glider will speed you up and help you to a great work-out. This inflatable and lightweight SUP comes with the removable US-Box-Fin-System. The perfect recreational unit for the advanced athlete and adventurer in calm and moving water. The SHARK series has been designed for touring and speed, making it one of the lightest and fastest inflatable SUP ever.

This stylish companion fills highest expectations. Equipped with a non-slip deck and kick pad for perfect pivot turns. This SUP will reach high stiffness with low pressure (0.8 bar / 12 PSI only). Usage
Touring and Speed | calm Water

Features
Luggage Rack | 1 US-Box fin | Single layer dot drop stitch vinyl | Diamond cut EVA deck- and kickpad.

Delivery content
SUP Shark | Easy-Pack | High-Pressure Pump | US-Box Fin | Manual | Repair Kit
User reviews
There are no user reviews for this listing.